Players vote in record numbers for 2022 FIFPRO Women's World 11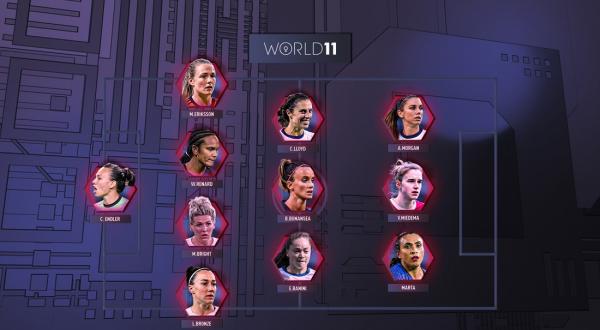 Over 6,000 players cast their votes for FIFA FIFPRO Women's World 11
 
Record-breaking number of players voting for their peers
 
23-person squad list, showing those who have received most votes, will be revealed at later date
Voting for the 2021-2022 FIFA FIFPRO Women's World 11 has now closed – with players casting their ballots for fellow professionals in record numbers.
6,043 women's players from 60 countries placed their selections for the 2022 World 11 – a significant increase from last year's number of 3,675.
The only global player award decided exclusively by footballers, the World 11 depicts the most outstanding players in the current game.
Voting opened on 12 August 2022 on the back of an action-packed July which saw five major international tournaments taking place across five continents.
"It's fantastic to see the engagement from players for this year's Women's World 11. The record-breaking numbers show how much the players care about this award and the opportunity to give special recognition to their peers around the world," said FIFPRO's Director Global Policy & Strategic Relations for Women's Football Sarah Gregorius.
"Off the back of a brilliant July of international football, you can see the positive impact of increasing visibility around our game. Players benefit from this growing exposure, as it continues to push professionalism and the industry forwards as a whole."
What happens next?
In the build-up to the FIFA FIFPRO Women's World 11 unveil, FIFA and FIFPRO will release a 23-person squad list showing the players who have received the most votes.
The men's and women's squads consist of the three goalkeepers, six defenders, six midfielders and six forwards with the most votes. To complete the elite selection, the two remaining outfield players with the most votes are also added.
The 11 players within that 23-person squad who receive the most votes in their position are then selected in the FIFA FIFPRO Women's 11.
Those players will then be officially presented at the 2022 The Best FIFA Football Awards – the date of which is still yet to be unveiled.