MOGOGI GABONAMONG: THE PLAYER WHO WOULD BE FARMER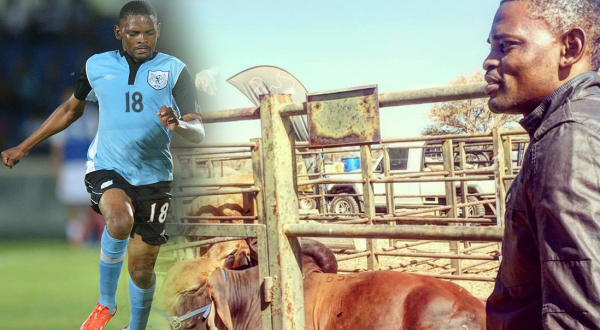 Former Botswana international Mogogi Gabonamong (38) was born into a farming family and always wanted to become a farmer himself.
Mogogi made his debut for Botswana as a 16-year old, also played professionally in South Africa and Trinidad & Tobago, and was awarded the Presidential Certificate of Honour in recognition for his outstanding statesmanship and his contribution to sport in Botswana.
Since retiring a few years ago, he has concentrated on his farm life and keeps cattle and goats on his farm.
"Farm life was all I knew growing up. That's really where my love for farming and bush life began. I used to watch my father and older siblings with cattle and I became more and more involved and excited. I used to wake up very early and let the cattle out for grazing. I milked the cows and brought the milk to the house. In the evening, I'd go fetch the cattle and lead them back to the kraal [cattle pen]. As I got a little bit older, the responsibilities grew and I'd vaccinate the cows, check them, plough the fields and so on.
At the same time, my passion for football also developed. I'd be out in the bush, relaxing and watching the cows graze and I'd be listening to a football match on the radio, dreaming to one day play professionally. My favourite side was [South African team] Kaizer Chiefs, and I always carried a radio with me to listen to their matches because we didn't have a TV at the farm.
My football journey really began when I was schooling in the capital Gaborone. I realized I had a lot of talent. My school used to play against others and I was the player the opposition feared the most. I wanted to become a professional to help change the situation at home, but I also wanted to become a farmer. I bought my first cow from the allowance fee I received from playing for the Botswana Under-17 and the senior side. It was very little, but I saved until I could buy the cow. The farm was always a safe and moulding space for me away from the game. When I went to Manchester United for trials when I was 16 years old, I went to the farm first to get my parents blessing and went straight back to the farm when I got back after about a month in England.
When I signed for my first club, Mogoditshane Fighters, I knew at that stage already that I needed to be focused. I needed to use my football money wisely for the farm and build my dream. After a game on Saturday I would take a bus and go to the farm, spend a day and be back for Monday's training in Gaborone. I respected both [football and farming], I invested my time in them and worked hard on both.
I used to buy Farmers Weekly magazine. I would read it on away trips and my teammates used to make jokes about it. They would call me "Modisa" which means cattle-buyer in Setswana. And they still call me that. But reading up helped me a lot. I learnt a lot along the way, because I wanted to do farming differently to how I saw it growing up. I wanted to implement what I learnt from my parents but also do things in a new, modern and up-to-date way.
When I was playing in South Africa, free time was hard to come by, but every chance I had, I made time for the farm. But I never missed training, never missed a game because of my passion for farming. I respected the game greatly and managed to create a balance between the two. For instance, I once went to buy a tractor straight after training at SuperSport United in Pretoria. I took it home to Botswana the next day after training, then drove back to Pretoria at night as I was training the next morning.
Football life is short. It's important to invest towards what you want to do once you stop playing. I always knew I wouldn't play forever, and I tried my best to take care of my farm while still playing. I knew early on, it's not always about your talent, as things can go wrong. I've seen the most talented teammates not going the extra mile in football, but I knew I needed to focus even more on my passion outside football. Both took commitment and hard work.
Farming isn't easy by a long shot, it has its own shortcomings and challenges, but if you love it, you soldier on. Players don't always have to follow what others are doing, or be seen as cool. Very few players shared the passion for farming, and it was okay for me. I walked my own journey. So it's important for players to know what they want long before they hang up their boots."