FIFPRO CONGRESS APPROVES NEW BOARD, EMBRACING DIVERSITY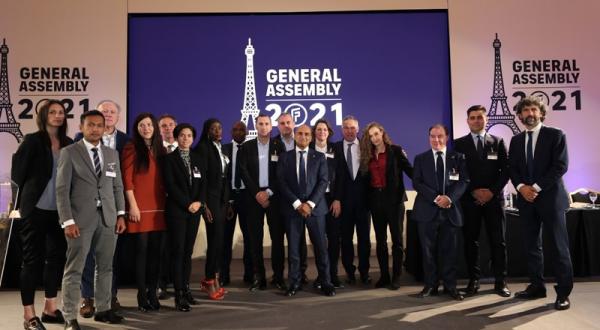 New expanded board is most diverse in FIFPRO history
David Aganzo becomes president, replacing Philippe Piat
Slovakia and Bosnia player unions welcomed as members
A new FIFPRO board was ratified today in a progressive step that makes the representation of men and women professional footballers increasingly diverse. Among the seven newcomers are women representatives from Africa, Asia and Europe.
The board was confirmed by the FIFPRO general assembly in Paris today, when David Aganzo was elected as the new president of the world player union.
The number of affiliated national player unions rose to 66 as the player unions of Slovakia (Únia Futbalových Profesionálov) and Bosnia & Herzegovina (Sindikat Profesionalnih Fudbalera u Bosni i Hercegovini) were introduced as members. Player unions in Iceland and Uzbekistan have become candidate members, a step on the road to membership.
The new 18-person board is the most diverse in FIFPRO's 56-year history and the first since statutes were ratified requiring mandatory increases in geographic and gender representation.
Among the seven members elected to the global board for the first time are Kathryn Gill, a former Australian national team player; Khadija Timera, a Senegalese lawyer; Karin Sendel, the Israeli national team captain; and Mila Hristova, the vice-president of the Bulgarian player union.
"We are excited to embark on this new phase in FIFPRO history with the most diverse and globally representative board we have ever had," FIFPRO General Secretary Jonas Baer-Hoffmann said. "We strongly believe this will result in even more effective and inclusive governance as we provide the best possible representation to professional footballers around the world."
Piat, co-president of France's Union Nationale des Footballeurs Professionels, is stepping down as FIFPRO president after two consecutive four-year mandates. He also held the role from 2005 to 2007. To mark his three tenures overseeing FIFPRO, he will become honorary president.
"Along with the rest of FIFPRO staff and on behalf of more than 60,000 professional footballers, I would like to thank Philippe for his hard work, dedication and achievements over the years," Baer-Hoffmann said. "As a proud former player and union leader he has remained an unstinting advocate of player rights. We are sure David Aganzo will follow in his footsteps with the same passion."
Aganzo is president of Spain's Asociación de Futbolistas Españoles and has been a FIFPRO board member since 2018.
The new board will comprise:  Kathryn Gill (Australia), Mila Hristova (Bulgaria), Geremi Njitap (Cameroon), Camila Garcia (Chile), Carlos Gonzalez Puche (Colombia), Alejandro Sequeira (Costa Rica), Bobby Barnes (England), David Terrier (France), Khadija Timera (Gabon), Karin Sendel (Israel), Damiano Tommasi (Italy), Izham Ismail (Malaysia), Louis Everard (The Netherlands), Fernando Revilla (Peru), Dejan Stefanovic (Slovenia), David Aganzo (Spain), Caroline Jönsson (Sweden), Lucien Valloni (Switzerland).