FIFPRO and IDOVEN partner up to equip professional football unions and players with heart monitoring resource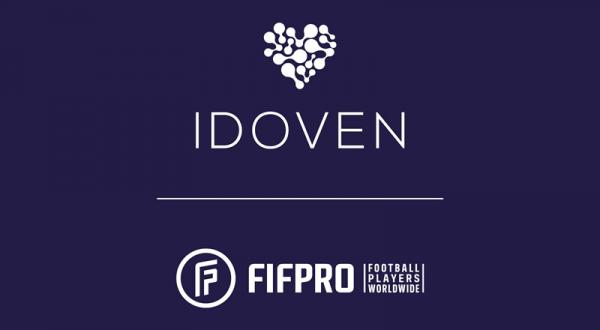 ➢FIFPRO and health technology expert IDOVEN launch innovative partnership
➢Men and women players to be provided with complimentary equipment to perform voluntary heart monitoring
➢Pilot programme to initially last for one season, with option to be extended
Madrid, Spain – August 30th, 2022 – FIFPRO, the International Federation of Professional Footballers, and IDOVEN, a pioneering health tech company advancing early detection of cardiovascular disease, have launched a strategic partnership to improve player health safeguards against cardiac arrest and other heart-related risks.
The FIFPRO x IDOVEN Player Heart Monitoring Service pilot programme will provide players with a complimentary resource to perform voluntary heart monitoring.
The initiative will provide a health service for men and women players who do not have access to heart monitoring and screening services. Elsewhere, it will complement existing medical health and safety requirements such as mandatory ECGs or echocardiography.
The pilot programme will initially last for one season with the option to be extended.
David Aganzo, FIFPRO President, said: "Any initiative related to the protection and health of our players is very important, especially around a topic like this, and that's why we need to invest in the right resources. This programme we have launched with IDOVEN will help many players gain access to the latest technology when it comes to cardiac monitoring. They should have the best-possible safety measures as their careers progress."
Simon Colosimo, FIFPRO Deputy General Secretary, said: "The health and wellbeing of players is of paramount importance. We are delighted to be teaming up with IDOVEN, who are experts in health technology. This forward-thinking partnership will increase player access to cardiac monitoring and help redefine the way cardiac arrhythmias are detected."
Dr. Manuel Marina Breysse, cardiologist, co-founder, and CEO of IDOVEN, added: "We are inspired to partner with FIFPRO to help protect the health of professional football players, both women, and men, on five different continents. Through this partnership, FIFPRO, the players, their national unions, and IDOVEN's cloud technology come together to create the first global digital platform for remote heart screening. This alliance will enable us to pioneer remote heart monitoring for elite athletes to screen and prevent heart disease on a global scale".
How will the programme work?
FIFPRO will provide the heart monitoring service to 15 national player unions. Each participating union will be able to distribute the Player Heart Monitoring Service to around 18 players.
Over a period of 24 hours, players will wear heart monitoring equipment when performing daily activities. The more beats that are recorded, the more data that is collected. The data will be analysed by IDOVEN's artificial intelligence technology and its network of cardiology experts.
Results will then be shared with the player. Players will remain in full control over their data, and no personal medical records will be shared with any football stakeholder.
For an in-depth look at the pilot project, as well as instructions on how to apply the equipment, please, see HERE.